45 Shopify Apps to Grow Your Ecommerce Business in 2020 (and beyond)
2020 is a good year for eCommerce brands. With the public staying locked indoors due to the pandemic, sales numbers are jumping through the roof. For new brands starting out, this is an opportunity that cannot be missed.
Did you know that creating your store using Shopify makes selling easy? And there are many Shopify apps out there that help you scale up and solidify your eCommerce marketing strategy. For new businesses, you simply can't miss out on taking advantage of Shopify apps.
Some of them are free, some unlock features with premium features but everybody agrees on this – they're extremely useful.
We've done a crazy amount of research and considered every aspect of sales and marketing when making this list. Check them out below.
1. Sales Pop Master - Countdown by Autoketing
Sales Pop Master features a countdown timer that shows when products are in or out of stock. Besides this whenever a new sale is made, you'll get a notification pop up along with details such as what product, which location, and the time of purchase. These pop-ups are also displayed on your website whenever new sales are made, thus revealing the latest shopping trends for your business.
App URL: Sales Pop Master ‑ Countdown – Ecommerce Plugins for Online Stores 
2. Sticky Add To Cart+Offer Story by Cornercart.io
This app lets you add a 'Buy now' button on all your product pages. Customers can instantly check out whenever they want and it's been proven to boost sales. The app is customizable according to various store themes and lets you upsell using Instagram-like stories.
 App URL: Sticky Add To Cart + Buy NOW – Ecommerce Plugins for Online Stores
Optimizing your Google Shopping Feed for increased sales is one of the biggest challenges new marketers face. AdNabu's app optimizes your feed in just 2 minutes and gets you running quickly. There are no additional charges or country limits for creating these feeds and it even shows you how to improve your SEO for best sales practices.
App URL:  Easy Google Shopping Feed – Shopify App
4. Re: amaze Live Chat & Helpdesk by Re: amaze
Tired of hiring a sales rep to answer your customers' questions every single time? Why not give this app a go then? It adds intelligent live chat and chatbots to your websites. Whenever a customer has questions, it instantly provides answers.
There are options for adding FAQs, replying in different languages, and connecting multiple stores. The best part is that it's completely automated and even takes care of processing refunds and cancellations too.
App URL: Reamaze Live Chat & Helpdesk – Ecommerce Plugins for Online Stores
5. Google Customer Reviews by AdNabu 
Google Customer Reviews by AdNabu helps you build consumer trust by displaying the latest ratings and reviews on your shopping ads. You will get a Google Reviews badge on your campaigns too and the reviews will help boost conversion rates. There's no manual coding required and customer support will always be there to assist you.
App URL: https://apps.shopify.com/google-customer-review-and-badge 
6. Privy - Exit Pop Ups & Email by Privy
Privy lets you create exit popups and makes email signups easy. The popups are automatically triggered whenever someone joins your mailing list. Furthermore, it syncs instantly on its own with Mailchimp and Klaviyo.
The best part is it reduces cart abandonments by offering exclusive discounts and promotional offers to customers who leave items behind in their carts.
App URL: Privy ‑ Pop-Ups, Email, & SMS – Ecommerce Plugins for Online Stores 
7. Free Shipping Bar by Hextom  
Free Shipping Bar boosts sales by encouraging your customers to add more items to your cart. With this, you can offer free shipping when customers hit a specific cart value. You can optimize your revenue in-store by using it to display offers specific to customers' geographic locations too. Curated holiday themes are included which help you boost conversions by showcasing seasonal offers and discounts.
App URL: Free Shipping Bar – Ecommerce Plugins for Online Stores 
8. Klaviyo: Marketing Automation by Klaviyo
Klaviyo recaptures lost sales and provides pre-built email flows to help businesses generate more revenue fast. You can set custom triggers and send super personalized win-back emails to your customers thanks to its automation features.
App URL: Klaviyo: Marketing Automation – Ecommerce Plugins for Online Stores – Shopify App Store
9. SEO Booster - SEO Marketing by Secomapp
SEO Booster takes a look at your store's SEO and optimizes it in just a few clicks. It auto-corrects SEO mistakes and brings high-quality organic traffic to your website. It's also very beginner-friendly with minimal technical jargon involved.
App URL: SEO Booster ‑ SEO Marketing – Ecommerce Plugins for Online Stores
10. EU Cookie Bar - Cookie GDPR by Booster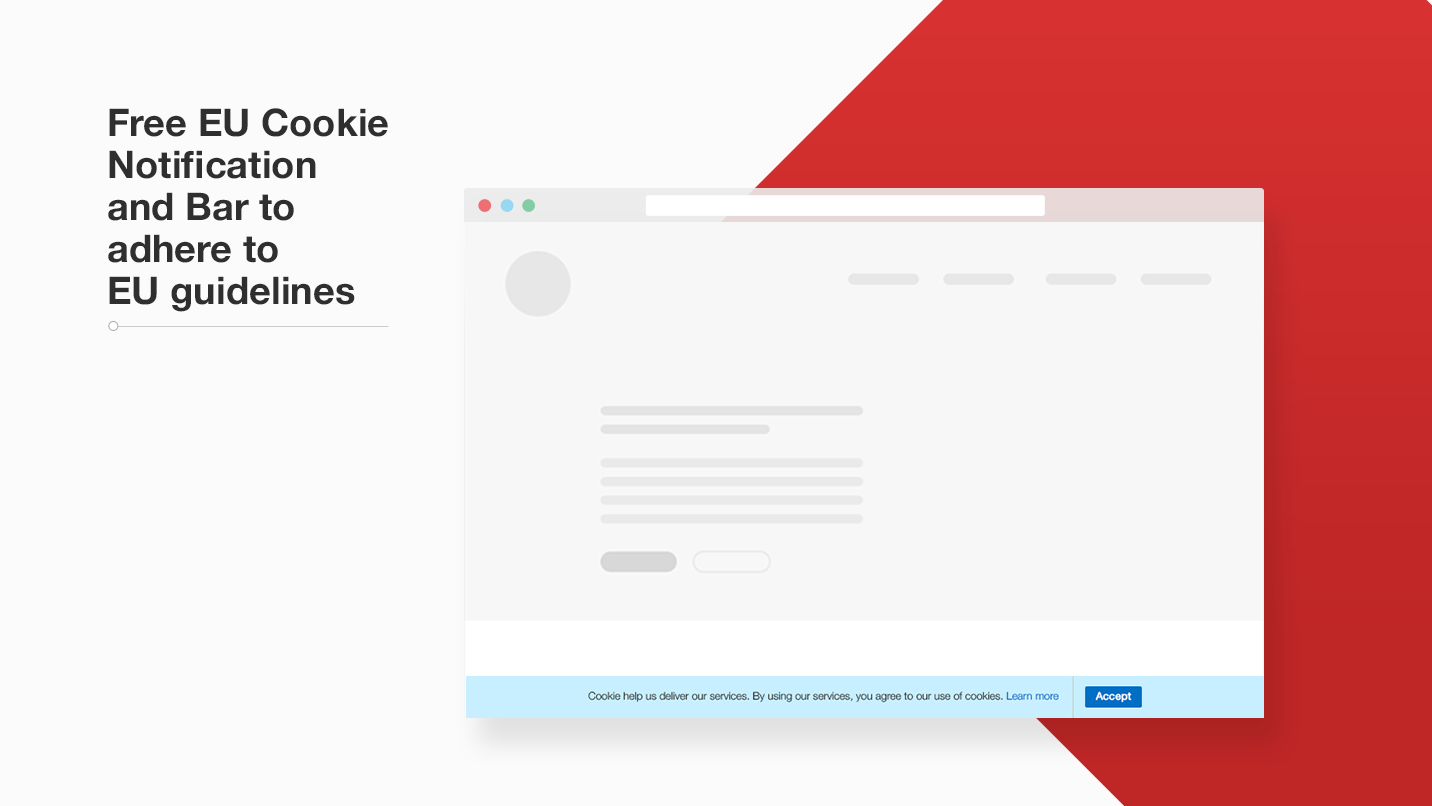 This app places a cookie banner on your website. It makes sure visitors accept cookies and comply with EU laws before being able to navigate through your pages.
 App URL:  https://apps.shopify.com/eu-cookie-bar 
11. Searchly by Commerce Instruments
Searchly makes searching for real-time products easy and syncs your store's catalog. It has unlimited filters and provides predictive text suggestions when users type in to look for products. There are also options for free upselling and cross-selling included along with its existing features.
 App URL: Filter & Search ‑ Searchly – Ecommerce Plugins for Online Stores
12. SEO Image AI by Gentexa
This app generates alt-text automatically for all your product visuals. It uses AI algorithms to scan through your inventory and fills in the alt-text attribute after finding out which images have that missing. Templates are included and it's pretty easy to use as well.
 App URL: SEO Image AI – Ecommerce Plugins for Online Stores
13. Product Labels Pro by BSS Commerce
Sales labels help your brand build credibility by adding small labels to your product thumbnails. Visitors see these labels whenever they view product pages and it immediately catches their attention. The app is compatible with various Shopify themes as well.
App URL:  Product Labels Pro – Ecommerce Plugins for Online Stores
14. SEO Blog Optimizer by Axel Hardy
Have a blog? You can optimize its SEO in just a few minutes! It's vital for business blogs to show up in search engines and this app will show you how to do that. Setup is easy and you also get organic traffic.
App URL: SEO Blog Optimizer – Ecommerce Plugins for Online Stores
15. Google Ads Retargeting Pixel by AdNabu 
A free app that lets you create retargeting and remarketing campaigns for audiences. It reduces cart abandonments and boosts home page visits. It's just a 1-click installation and gets running instantly.
App URL: Google Ads Retargeting Pixel – Ecommerce Plugins for Online Stores – Shopify App Store
16. WhatsApp Abandoned Cart by HelpNinja
WhatsApp Abandoned Cart by HelpNinja reminds your customers about their abandoned carts and helps them finish the checkout process easier. If your customers forget, the app will send automatic reminders via WhatsApp, thus creating a more personal connection.
App URL: WhatsApp Abandoned Cart – Ecommerce Plugins for Online Stores
17. Supertime by Roundtrip Labs
Supertime lets your customers receive their orders on time and in their own terms. For merchants, the app adds flexibility by displaying only the dates it takes to get the products/shipments ready.
App URL: Supertime – Ecommerce Plugins for Online Stores
18. Installment Recurring Payments by SpurIT
Have customers who want flexible EMI payment options? This app lets you install various installment payment plans for your audiences. There are also options for recurring payments included as well for regular shipments.
App URL: Installment Recurring Payments – Ecommerce Plugins for Online Stores
19. PageFly #1 Page Builder by PageFly
PageFly offers beautiful templates that let users create captivating landing pages in minutes. There's no coding required and it supports up to 50+ app integrations. The basic plan is free but to access the premium features, users have to pay $19/month and upwards.
App URL: PageFly #1 Page Builder – Ecommerce Plugins for Online Stores
20. BEST Currency Converter by Grizzly Apps SRL
If you ship internationally, this app will come in handy. It converts a country's currency into local and international rates. Reduce your customer's frustration and show them the converted rates for a seamless shopping experience.
App URL:  BEST Currency Converter – Ecommerce Plugins for Online Stores
21. VITALS | 40+ apps in one by VITALS
VITALS is an app that bundles many apps. It's been designed for marketers who are looking for an "all-in-one" package for their SEO and selling needs. The premium plan starts at $29.99/month and the app offers a 30-day free trial. Some of its features are importing WhatsApp chats, displaying the latest ratings and reviews, countdown timer, pop-up alerts for sales, and multi-currency conversions.
App URL: VITALS | 40+ apps in one – Ecommerce Plugins for Online Stores
22. Ontrack Analytics App by ONTRACK DIGITAL
Ontrack Analytics app gives you a singular dashboard from where you can analyze the performance of your marketing and sales campaigns. It automates analytics and reporting and provides you with actionable insights for boosting sales and traffic.
App URL: Ontrack Analytics App – Ecommerce Plugins for Online Stores
23. Google Ads Conversion Tracking by AdNabu
Google Ads Conversion Tracking lets users implement AdWords tracking correctly. Errors in setting up AdWords tracking can cost sales and conversions and this app prevents that from happening. The app also supports multiple Google Adwords accounts.
App URL:  Google Ads Conversion Tracking – Ecommerce Plugins for Online Stores
24. Recurring Order & Subscription by SpurIT
The app adds a subscription button right next to the 'Add to cart' option. For merchants who want to offer subscription packages for their products and set up recurring payments, this is good.
App URL: Recurring Order & Subscription – Ecommerce Plugins for Online Stores
25. Dynamic Pricing by SpurIT
An app that adjusts the pricing of your products dynamically based on sales performance. It lets you set up rules for increasing the sales pricing and you can set timelines too. Price increases can be set to adjust for peak seasons too and it's compatible with various Shopify themes. Very customizable.
App URL: Dynamic Pricing – Ecommerce Plugins for Online Stores
26. Replay Live Session Recordings by CartKit
Wondering why your campaigns aren't doing well? This app will let you figure it out by replaying previous insights. Additionally, it will tell you why your landing pages aren't converting and how to improve the navigation experience for your website. If your focus is reducing bounce rates and cart abandonment, it will really help. Simply put, it replays visitor sessions on your store and logs them for later review.
App URL: Replay Live Session Recordings – Ecommerce Plugins for Online Stores
27. Auto Currency Switcher by MLVeda
The auto currency switcher takes the currency of your country and converts it to international standards for your customers' convenience. For example, if someone is shopping from Russia it will show the price of your products in Russian Rouble instead of United States Dollars. And it does this automatically.
App URL: Auto Currency Switcher – Ecommerce Plugins for Online Stores
28. Printful: Print-on-Demand  by Printful
A powerful print-on-demand service that offers its features in the form of an app. It takes care of invoicing, printing, and warehousing for your inventory. If you run an art business or anything creative that requires prints to be produced, this is your go-to app.
App URL: Printful: Print‑on‑Demand – Ecommerce Plugins for Online Stores
29. Buy Me - Sticky Buy Button by MakeProSimp
Make checkouts for your audience faster by adding a Buy Me sticky button for your product pages. Your customers will be able to instantly checkout by simply clicking on it and this saves time while boosting conversions. It's worth it!
App URL: Buy Me ‑ Sticky Buy Button – Ecommerce Plugins for Online Stores
30. Cozy AntiTheft by Cozy eCommerce Add Ons
Tired of people stealing your images? Cozy AntiTheft prevents visitors from right-clicking and copy-pasting your content. It even prevents dragging and dropping visuals and locks your content in place. Also works for guarding text-based content.
 App URL:  Cozy AntiTheft – Ecommerce Plugins for Online Stores
31. Translate your shop GTranslate by GTranslate
GTranslate translates the language and tone of your shop into the native language of your audiences. This results in more conversions and boosts incoming traffic. It's also free to use and supports over 103+ languages. Highly recommended for those who want to turn their eCommerce store multilingual.
32. Honeycomb Upsell Funnels by Conversion Bear
Add upsell funnels to your cart and impress your clients with this app by Conversion Bear. The way it works is it shows post-purchase offers and gives customers an exclusive discount for staying loyal to your brand. You can customize these upsell offers as well.
33. Referral Candy by ReferralCandy
Create referral programs using Referral Candy and give your loyal customers incentives for shopping often. You can customize the look of these programs and track stats using email integration. The app also allows sharing the content on social media handles like Facebook, Twitter, Instagram, and Messenger.
Promotion Popup helps you reduce cart abandonment by displaying popups at different parts of your website. You can show promotional offers on your landing pages, homepage, special offers tab, and more using this. You can also trigger these pop-ups whenever customers stay on the page for a while or click on something.
35. Secomapp: Affiliate Marketing by Secomapp 
Want your loyal customers to help you out and build your brand? This app lets you launch affiliate programs and launches registration for them. You can set the commission rules and list offers on your marketplace.
This will convert more customers to affiliates and grow your business. Bulk emails, creative asset gallery for marketing and private chat with affiliates within the app are supported as well.
36. Videofy - Product Video Maker by Magisto Ltd. - Marketing Video Making & Editing
Videofy lets you create custom videos for your website to showcase your products and services. Using simple text and visuals, it crafts engaging content and lets you share on social media outlets and blogs. And the best part is that it's automatic since it's powered by AI! It also integrates with YouTube and Google Drive.
Have you found creating a contact us forms to be a challenge? This app will help you out then! It features mobile-responsive form creation and lets you create an unlimited number of input fields on the forms.
You can export your submissions in CSV format and also upload attachments. Google reCaptcha is included as well along with data integration for Klaviyo, Mailchimp, and Zapier.
38. Oberlo - Dropshipping App by Shopify
Oberlo makes selling your favorite products on Shopify a breeze. For those who are looking for ideas or new products, the app helps them find those. It is tied with a reliable network of suppliers who assist in adding these to your store.
39. tawk.to Live Chat by tawk.to
Tawk.to is an app that was designed to bring real-time support and answers for customers. It lets you monitor and chat with website visitors, thus preventing you from losing new leads. It's compatible with Android, iOS, Windows, and Mac OSX.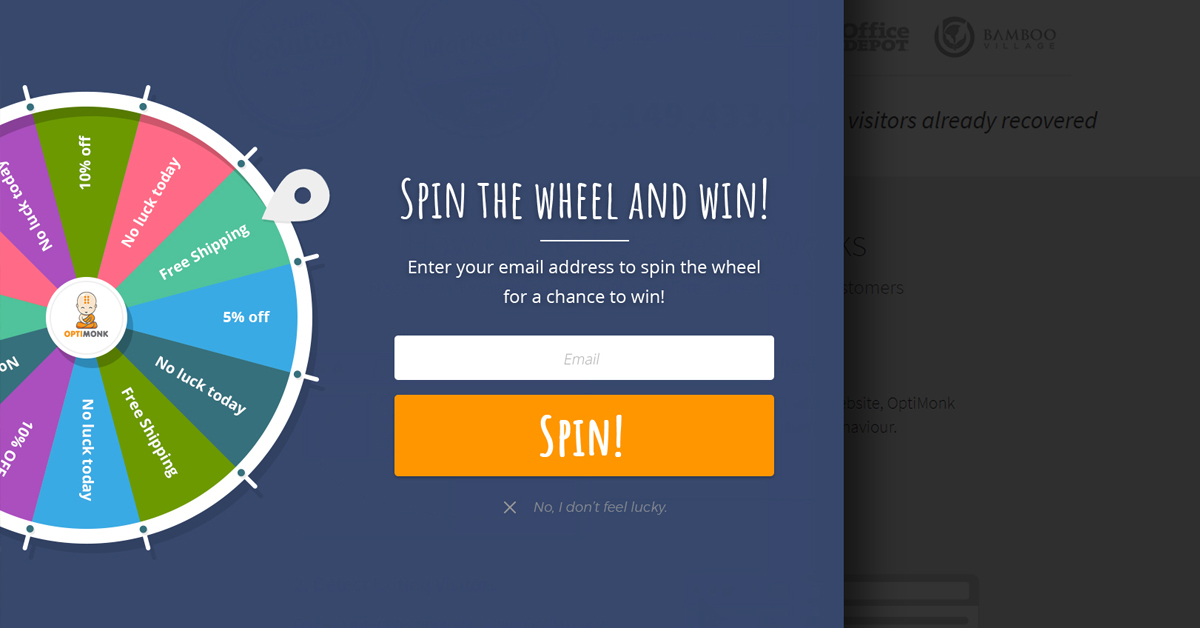 Spin Wheel Popup Sales Pop-ups lets visitors win special coupons, discounts, and promo codes once they spin the wheel. It integrates with email newsletters, loyalty programs, mobile-responsive forms, and more. The popups are triggered when visitors show exit intent while browsing the website.
41. PDF Invoice, Order Printer by AVADA Commerce
This app makes invoice creation easy. It lets admins create invoices using ready-made templates and edit them to fit their needs. Customers are sent PDF versions of these invoices and print them out online in just a few clicks.
42. AMP by Shop Sheriff  by Shop Sheriff
AMP is designed to work with Shopify's page builder and bring more mobile traffic. It integrates directly with analytics and lets you create landing pages that load in mere minutes.
It also indexes your Shopify pages and speeds up load times, thus resulting in better mobile search results. You can add links, customizable footers, auto cache pages, and embed YouTube videos into your AMP-driven pages on Shopify.
43. Lucky Orange Heatmap & Replays by Lucky Orange LLC
This app creates a heatmap for different parts of your website and highlights the areas where visitors aren't converting. It tells you where you are going wrong and why by giving you deeper insights and analytics. It supports user recordings and lets you view your website from the eyes of the visitor, thus giving you an entirely different perspective.
44. SmartrMail Email Marketing by SmartrMail
Craft engaging newsletters and get more conversions through new and existing campaigns. This app adds a hyper-personal touch to your emails based on previous visits and purchases. It also sends up to 5,000 emails monthly via its free email marketing plan and uses automated flows for welcome emails, win-back campaigns, and cross-selling suggestions.
45. AVADA Size Chart by AVADA Commerce
Customers frequently return products and ask for refunds due to sizing issues when it comes to buying clothing, footwear, and fashion apparel. The AVADA Size Chart is an app that lets you create sizing charts using 11 different templates.
It takes the guesswork out of measuring and shows different sizes for different product categories. This prevents confusion and prevents unexpected returns. Plus, the charts are completely customizable and let users attach images and video snippets to them for demonstration.
Conclusion
These Shopify apps will help you get started with your sales, marketing, and design processes. Now that you know how to increase sales using Shopify apps, why not start working on your email newsletters and promotional campaigns? It takes work and we're aware of that but it pays off. If you're looking for more tips on how to optimize your Shopify website to drive sales, be sure to check out this guide.
Additional resources
Editor's note: This is a Guest Post by AdNabu
AdNabu helps improve sales in Google Ads for eCommerce companies. If you are running the search, google shopping, or display campaigns in Google Ads, this software will be able to help increase your sales.